Dramatic Draping
"View our Room Draping Before and Afters"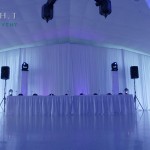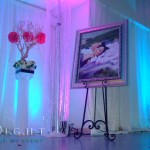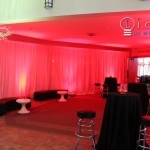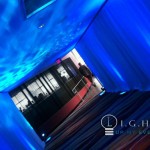 (Click before and after thumbnails above to enlarge)
Fabric is a cost-effective way to transform the layout of ANY event space. Sometimes you have a room that is in serious need of room draping. This is great for hiding walls that shouldn't been seen. Your venue might have really bad wall paper or dark colored walls. Pipe & drape is also useful when there are no other lighting alternatives. For example, if your hall has wooden or dark toned panels, then pipe and drape will give you a blank canvas to paint with lighting.
Transform Your Space with Encore Drapery
.

Create a Beautiful Space
.

.
Other times, drapery is used create lounge areas with dramatic designs. You can breakup any space with the fabric's layout. You don't have to go in a traditional straight line when working with pipe and drape. You can cut out edges or even give doorways by swagging the drapery open. We've even used our fabric to separate a room. You might have the ceremony on one side and the reception on another. In some cultures, the men have to stay on one side of the room and females on another. Regardless of why you need fabric, you will be glad you did it!
.
"Head Table or Ceremony Backdrop Draping"
If you are planning a wedding reception, you might need draping for the formal parts of your event. During your wedding ceremony, a majority of photos are taken by guests from their seated position. If you want to enhance their photos, we recommend displaying a beautiful backdrop with white fabric. You can go as simple or as extravagant as you like.
(Click thumbnails above to enlarge before)
The same goes for the reception part of your event. This isn't just limited to weddings, there are other events that need backdrops for speeches or ceremonies. We can use any color of fabric to frame your stage or head table. Most clients will use our silk white fabric. This is great because it can easily be made any color with our uplighting fixtures. You will love the way your photos turn our with our impressive head table backrops.
.
"Custom Chuppa Designs & Lounge Areas"
This is typically the canopy you will be married under during your wedding ceremony. We can recreate any look or effect you desire. All we need is a photo inspiration to closely match. For your convenience we work with a variety of fabric arrangements. Besides fabric, we can also incorporate crystal into the design to give it a grand look.
Lounge areas at events are an amazing way to create functional space. Our white poly-silk blended fabric helps to section off part of your room to make it more comfortable. Modern events will incorporate lounge furniture with the lighting. Make your reception stand out with a custom designed lounge area.
.
"Grand Entrance Doorway Drapes"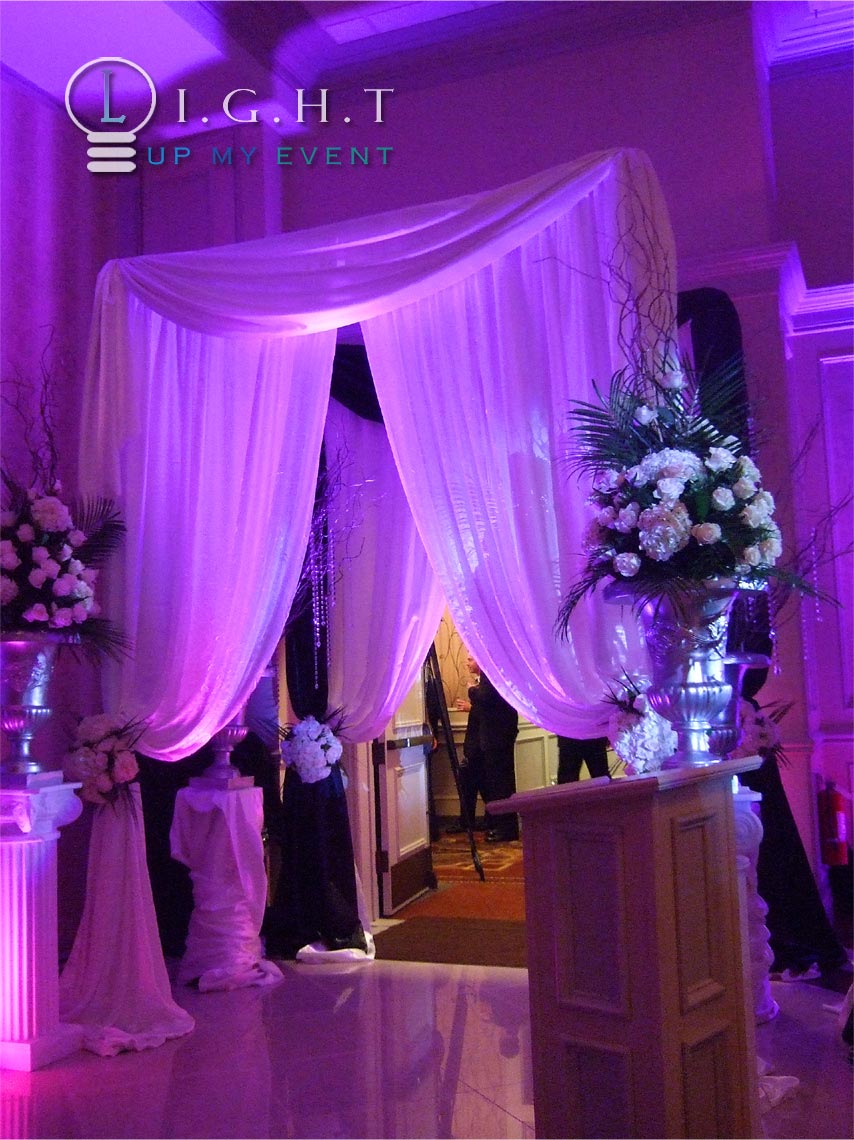 When it comes to special events, it's the small details that matter. Don't just limit the walls and ceiling to drapery, highlight other areas with our doorway drapes. This is perfect for grand entrances that need to be over the top. Just a little bit of fabric goes a long way when it is displayed and light up. We of course will swag it back to to make sure there is enough room for guests to move through the arch. We also like to see floral incorporated into the design. This personal touch really helps to pull together all your design elements.
In addition to doorways, we can also provide drapery for tunnels. Imagine you have to walk through the doorway of your venue and through a short cluttered hallway to the banquet room. Wouldn't it be nice if you could just cover everything and create a simple pathway? Tunnels are perfect for the situation when you want to hide your lobby or hallway. You can incorporate twists or turns in your design to make it more funky.
Who wants to walk through a straight tunnel when they already know what is at the end? Mix it up a little bit and keep them guessing!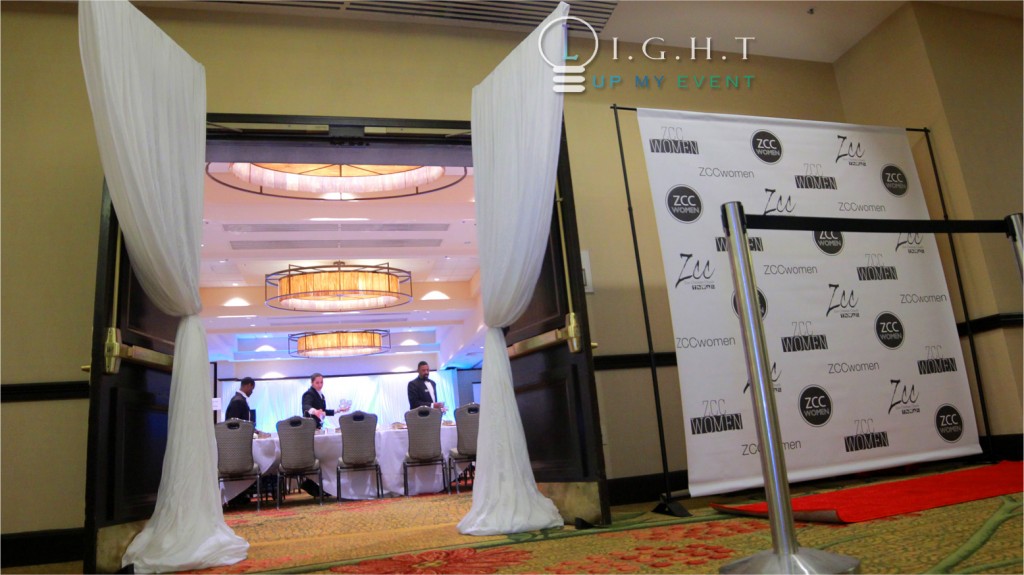 .
"Overhead Ceiling Draping Treatment"
Let's be honest, some ceilings might need decorations.
Ceiling draping
is done to either hide or accent what it visible to guests. As like all our fabric,
we only use a flame-retardant silk fabric
for the ceiling. It drapes very nice giving you the elegant swooping motion across your ceiling. There are 2 styles available (Star Pattern and Horizontal Pattern) for you to choose from. We include before and after shots to demonstrate how easily a ceiling treatment can transform your room.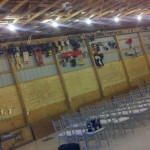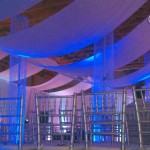 Horizontal Before                      Horizontal After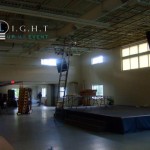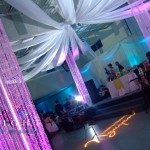 Star Pattern Before                   Star Pattern After
Ceiling drapery treatment is a custom quote that is based on a variety of factors. Depending on your package and layout, setups can take anywhere from 2 hours to 2 days. We need to know what kind of ceiling it is and how can we mount the fabric. Does your venue have a scissor lift on site for decorating vendors? Sometimes we have to custom fabric equipment to attach the draping. Most facilities will be flexible, other times they have strict guidelines. You can rest assured that we will coordinate closely with your vendors, so that everyone is on the same page. Bottomline, your room will look AMAZING!
.
Learn how lighting will impact your event by emailing us here or calling 877.643.8368