Michigan Pipe Drape Rental Company
One of the quickest ways to transform the look and feel of your room is with silk white drapery fabric. This is commonly referred to as pipe and drape, and it requires (2) things… pipe and drape! There is other hardware involved, but that is a basic idea of how most rental companies in Michigan refer to this. In this article, we will give you the lowdown on terminology, costs, and other considerations for drapery rentals.
Michigan Pipe and Drape Terms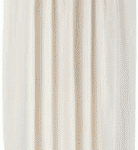 When looking to a lighting company to go with for your wedding or event, you might notice some terms get thrown around loosely. The most common phrases you will hear repeatedly are called gathers or pleating. This is the way the fabric bunches together to give that lavish draped effect. This is desirable, because it creates depth with shadows. I've included a photo to give you an idea of how it should look. Typically, your rental company will include more fabric panels to pleat the drapery.
.
Drapery Cost
To give the pleated look, it shouldn't cost extra. Typically you will see per/foot pricing. Most production companies have minimums, others have technician fees, and some even give price breaks when going above a certain amount of pipe and drape. It is important to know that no matter what package you go with, that the fabric is:
1.) Flame retardant, better to have your ducks in a row, majority of Michigan Banquet Halls require this
2.) Includes hardware, this can be a costly add-on if it is sneaked into your package later
3.) Includes setup/tear-down, the last thing you want to worry about is transporting and putting everything together
Fabric Options
Traditionally, weddings and events will incorporate white fabric into their event. This is much more versatile, because it can change colors with lighting fixtures. Besides room dimension and floor layout, there are other factors that influence giving you an accurate price quote. The more information you can provide the rental company the easier it will be to give you exactly what you need.
1.) If you are doing (2) opposing walls you might want to use similar dimensions. This is recommended because it keeps the room evenly balanced. The last thing you want guests commenting on, are how your walls do not look symmetrical. Usually, we're only talking about 10-20 feet.
2.) When trying to alter the layout of your room, angles give great illusions. Consider doing this with a corner of your room, you can even transform this into a lounge area with white leather furniture. Angels are also budget friendly since you can reduce the amount of draped fabric required.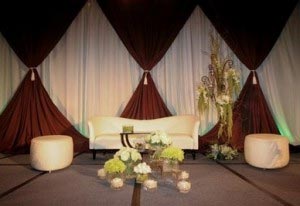 3.) Mixing up the colors can create a bold vibe at your reception or event. Whether you go dark or light, there are many ways to position the fabric to leave a lasting impression on your guests. There is no right or wrong way to utilize pipe and rape, so try to imagine how you want the room to look. This will get you started with brainstorming possibilities.
4.) Ceiling heights will have a direct impact on the quote. There are different heights companies like to work with. Most venues will work well with 10 foot panels; however some facilities might need 12 foot heights. It doesn't seem like a lot, but 2 foot of difference on a 180 foot quote adds up really quick. Any company you consider should walk you through the available options.
5.) Try something unique by creating an elegant hallway or dramatic grand entrance way. Pipe and drape is great for creating a room within a room. Besides using lighting elements to highlight your effect, you can even have color coordinated sashes to tie back the fabric. This gives a very impressive look and feel. Another way to have fun with your fabric is to hang crystal bead strand from the crossbars. When lighting hits the bead strands it gives a slight twinkle to your room.
Want to see our drapery options? View photos of recent setups here or call 877.643.8368