Color Changing Photo Booth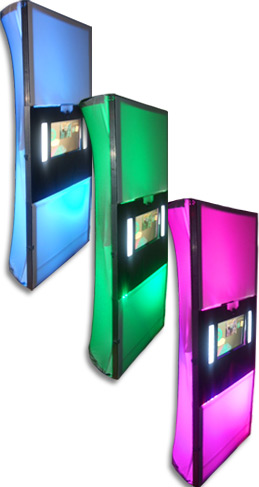 Have you considered how much excitement
Michigan photo booths
will add to your event? They provide guests a FUN way to strike their pose and capture those great memories. We hope you're ready, because your guests will be dragging you inside that booth the whole night! When you bundle a photo booth rental with your lighting design package you get huge discounts. The Encore Photo Booth experience includes:
Michigan Photo Booths
• Exterior and interior of shell lights up and changes
• Full enclosed with black curtain
• Spacious design fits up to 15 people inside
• Large 19″ Touch screen monitor (choose selections)
• Print lab dye-sublimation photo printer
• Photos print in 6 seconds (other guys take 3 minutes)
• Enhanced 3-d layout
• Secure online image hosting
• Engraved USB flash drive (better than a CD)
• On-site photo booth specialist
You also can expect no limit on the color or black and white photos. These come in double strips so your guests can take one half home as a keepsake, while the other photo can be added to your scrapbook. All you have to do is bring the book + supplies, we'll help you put together the scrapbook. This will only cost you about $10 in supplies. We will save you time & money.
Our booths are so cool, that we hold a patent on our design. We manufacture our photo booths here in the USA. When other photo booth companies look for quality, they use our color changing design.
How about Custom Designs?
Would you like to put the finishing touches on your photo booth? Personalized templates give you more freedom than your traditional design at the bottom of the strip. Your guests will take home with them pictures wrapped in a full graphic layout created by YOU. It is amazing at how the images actually become a part of the design. Get a better understanding by selecting the photos below, and find out more about custom layouts by contacting us!

IMPORTANT: Encore only uses industrial grade dye sublimation printers for our booths. This ensures you get the highest quality in photo prints. Your images will be waterproof and last for many years to come. Any photo booth professional you interview should use a dye sublimation printer!
Bundle options to save and amaze, get started & either email us here or call 877.643.8368